John 14:3 (NLT) — 3 When everything is ready, I will come and get you, so that you will always be with me where I am.
I am going to let Pastor Randy Alcorn do the blog today. I took this off his Eternal Perspectives Ministries web site. He also has a book out called Heaven that I have in my library but haven't read yet. I hope to begin reading it soon.
Florence Chadwick and the Fog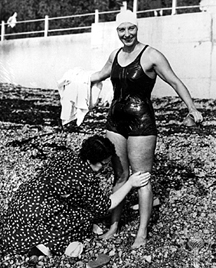 In 1952, young Florence Chadwick stepped into the waters of the Pacific Ocean off Catalina Island, determined to swim to the shore of mainland California. She'd already been the first woman to swim the English Channel both ways. The weather was foggy and chilly; she could hardly see the boats accompanying her. Still, she swam for fifteen hours. When she begged to be taken out of the water along the way, her mother, in a boat alongside, told her she was close and that she could make it. Finally, physically and emotionally exhausted, she stopped swimming and was pulled out. It wasn't until she was on the boat that she discovered the shore was less than half a mile away.
At a news conference the next day she said, "All I could see was the fog.…I think if I could have seen the shore, I would have made it."
Can you relate to those words? We live our lives in a fog of trouble, worry, doubt, depression, health problems, unemployment, financial uncertainty, strained relationships…and loss of loved ones.
We have times of joy and celebration. But let's face it—we live in a world of struggle, suffering, and death…the devastation of the earthquake and tsunami in southern Asia has been a terrible reminder. Our problems may be small compared to theirs. But some of us have faced personal earthquakes and emotional tsunamis in the last year.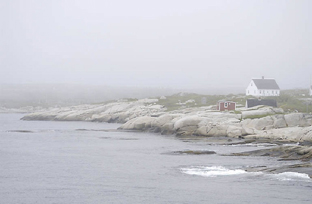 All these things create a fog. It's difficult to see in front of us. We end up focusing on the fog because we can't see the shore. Sometimes we feel like giving up because we don't have the strength to stay afloat any longer. This is where the people of God throughout the ages had a source of strength and perspective that for some reason we don't talk much about today: Heaven. It was their north star by which they could navigate their lives. It was their great reference point. But Heaven has fallen off our radar screens today. We don't know where we are and we do not know where we are going.
The apostle Paul faced hardship, beatings and imprisonment. He said,
One thing I do: Forgetting what is behind and straining toward what is ahead, I press on toward the goal to win the prize for which God has called me heavenward in Christ Jesus (Philippians 3:13-14).
Paul knew where he was going. He was moving heavenward. As a runner sets his eyes on the finish line, Paul set his eyes on Heaven. He was able to see the shore. That's why I have written several books about Heaven: that we might see the shore, that Heaven might become as real in our thinking as it truly is.
The Bible tells us that if we know Jesus Christ we are headed toward Heaven. A world where there will be "no more death" and "no more mourning," "no more crying or pain." God will wipe away the tears from every eye. That world awaits us on the other side of all this fog that surrounds us.
Since, then, you have been raised with Christ, set your hearts on things above, where Christ is seated at the right hand of God. Set your minds on things above, not on earthly things (Colossians 3:1-2).
Consider Florence Chadwick's words: "I think if I could have seen the shore, I would have made it."
For Christians, that shore is a person called Jesus and a place called Heaven. We are made for a person and a place. Jesus is the person, Heaven is the place.
Helen Keller, "The only thing worse than being blind is having sight but no vison".
Be Inspired Hilltop!